The Alloy Symposium at UMass Dartmouth is happening tomorrow and Sunday – all day, both days.  It's open to the public and Grace Hilliard-Koshinsky has pulled together an ensemble of really interesting speakers. Saturday is a series of lectures and demonstrations; Sunday continues that theme with the addition of a panel discussion. Examples of the lectures include, "Scrap Yards: Process and Structure" and, "Blacksmithing Basics." All the lectures look great. I'm speaking on Saturday at 3pm and I'll be part of the Sunday panel at 3:30pm. If you're in the New Bedford, Massachusetts area, stop by.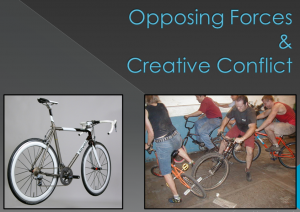 Here's one of the slides from the deck I'll be using tomorrow. This somewhat cryptic image is supposed describe how my – and many others at Seven Cycles – background in art creates an unusual environment.
On the one hand we strive to build bikes that are as precise as possible – the image on the left; on the other hand, providing space to personally express, create, destroy, and push limits is very valuable to the process of continuous improvement. This juxtaposition of precision and mayhem is an example of Seven's "Opposing Forces."
The photo of a demolition derby at one of Seven's parties provides an outlet on the "Creative Conflict" front. The passion of the right image gets pulled into every bike Seven builds – the left image. Passion moves mountains and can therefore create mountainous conflict; submerging that conflict in a sea of creativity is where new ideas seem to thrive.
The creativity inherent in the visual arts and aural arts seem to be an ongoing thread through Seven's history.